Birgit Eriksson: Conference in Manchester
A chance to continue the highly inspiring discussions on everyday participation that some of us engaged in at our own Cultures of Participation conference. Anne Scott Sørensen and I will go.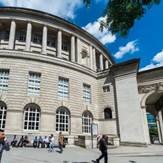 Understanding Everyday Participation: Re-locating culture, value and inequality
The Understanding Everyday Participation Project's last conference is taking place on June 11th-12th 2018 at Friends' Meeting House, Manchester.
The UEP project calls into question the traditional boundaries of 'culture' and exposes the role these play in the making of economic, social and geographical inequalities. Its research disputes the methodological nationalism that dominates understandings of cultural participation and demands a radical re-appraisal of the meanings and stakes attached to participation and 'cultural value'.
This closing project conference asks how we might re-think the field of participation studies, both within and across disciplinary boundaries, including its articulations with policy.
Confirmed keynote speakers: Professor Omar Lizardo (University of Notre Dame) and Professor Kate Oakley (University of Leeds)
Register here
For more information visit the Understanding Everyday Participation webpage