En kort anbefaling: Nina Simons The art of relevance (2016)
"Let's face it: we have a problem. It's not that we don't see the numbers declining, or the funding priorities shifting, or the world passing us by. The problem is: what do we do? This problem is a question of relevance…"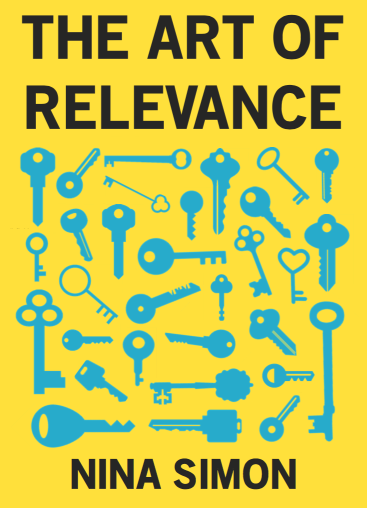 Sådan lyder det i forordet til Nina Simons The art of relevance fra 2016 skrevet af Jon Moscone. Med hans optakt er man ikke i tvivl om bogens sigte med sit fokus på relevans: Kulturinstitutioner er nødt til at være mere relevante for deres publikum/besøgende for at overleve. Men relevans er ikke ensbetydende med at være aktuel, populær etc. Det handler ifølge Nina Simon om at ramme de mennesker, der kommer i kontakt med kunsten, lige i hjertet.
Simon er leder af Santa Cruz Museum of Art & History og designer og forsker i deltagelsesorienterede og fællesskabsbaserede institutioner. Derudover har hun også skrevet The Participatory Museum (2010).
Bogen er letlæst og fyldt med eksempler, og den er sikkert velkendt for de fleste inden for dette felt. Alligevel synes jeg, den er relevant at fremhæve i denne kontekst, hvor vi arbejder med, undersøger og diskuterer spørgsmålet om deltagelse i kulturinstitutioner. For man må forvente, at der bag ønsket eller kravet om deltagelsestilbud ofte er en forventning om, at interaktionen med kunstværker og kunstneriske processer har en virkning i eller på deltageren. Hvilken virkning, der specifikt er tale om, vil blandt andet afhænge af individet, værket, processen og en lang række andre omstændigheder, men hvis det skal betyde noget for deltageren, skal mødet med kunsten, institutionen eller deltagelsesprocessen ifølge Simon opleves som relevant.
"I believe relevance is the key to a locked room where meaning lives. We just have to find the right keys, the right doors and the humility and courage to open them" (s. 23).
Bogen kommer med en række eksempler på, hvorfor vi er nødt til at arbejde med relevans. Meget af det er formuleret som indbydende og ind i mellem lidt glatte 'sandheder', men ikke desto mindre synes jeg hendes pointer inspirerer mit arbejde med undersøgelser af publikums oplevelse med scenekunst.
Eksempelvis er hendes "2 delusions about relevance" (s.40) med til at udpege to falske overbevisninger om relevans. - To overbevisninger, der (på trods af deres lidt karikerede beskrivelse), vist stadig eksisterer elementer af i danske kulturinstitutioner:
1. We believe what we do is relevant to everyone. We can connect it to everyday life, ergo, it is relevant. Everyone can see the door, everyone already has the key, and they can open the door any time they like.
2. We believe that relevance is irrelevant, since people will be attracted to our work for its distinctiveness. It is NOT like everyday life, and that is the glorious point. There is no door, there is no key, there is only a magical experience to fall into like Alice through the looking glass.
Endelig holder jeg i denne out-reach entusiatiske tid af hendes indefra-og-ud-tilgang til arbejdet med relevans:
"The sooner we start focussing on becoming relevant to the people we most care about – as opposed to proclaiming our relevance to everyone – the more successful and powerfull we wil be" (s.41-42).
Med dette siger hun ikke, at en institution skal have nok i sig selv og dens nærmeste. Men at man ved at starte med at fokusere på og forfine relationen til de aktuelle besøgende vil kunne vokse sig mere relevant for andre og flere. Det handler om at blive bedre til det man gør, fremfor at kæmpe for at nå ud til alle med det resultat, at ingen rigtig bliver ramt.
Spørgsmålet er så, hvad deltagelse betyder i forbindelse med spørgsmålet om relevans? Måske denne sammenhæng vil blive belyst ved TakeParts kommende seminar, hvor vi bl.a. vil diskutere evaluering af deltagelsesprocesser.